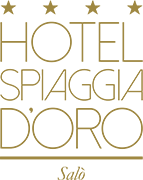 The Spiaggia d'Oro is a romantic 4 star hotel. It is one of the oldest and most elegant hotels in the famous Riviera del Garda.
It is situated in an enviable position on the small harbour of Barbarano about 1 Km from Salò and Gardone Riviera.
An impressive hall, which is decorated with prized fabrics and armchairs with warm elegant hues,
leads the gaze towards a suggestive and relaxing view.

The picturesque garden boasts the large swimming pool.
The ancient trees and citrus trees are reflected in the lake,
which acts as a soothing backdrop throughout the day.
The restaurant by the water, where you can sample many culinary delights under the rays of the sun or in the moonlight,
lends an exclusive feel to this wonderful location.
Hotel
One of the oldest and most elegant hotels on the famous Riviera del Garda