Sport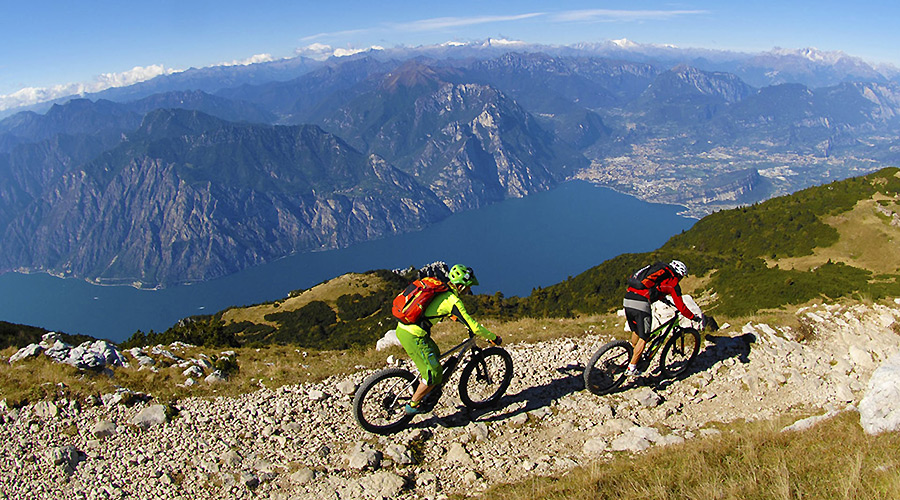 A holiday on Lake Garda can be much more than just a stay by the lake...
Thanks to the conformation of the territory, over the time a number of sports and events have been developed and related to bind even more visitors with this amazing and unique Italian territory. From playing golf to mountain biking, sailing, kite, just a few meters from the hotel you can assess to whatever is the wright sport for you and if you are a sportsman you can already organize your sports holiday from home!
BIKE
On Lake Garda you can find cycling routes to suit all tastes in all seasons.
Lazy bike rides on comfortable bike paths to steep trails in the hills of the region.
Avoiding the crowded main road, you can, choose ferries and busbike to arrive at the desired destination.
The territory between Desenzano and Salò is crossed by several routes, such as Rezzato-Salò (29 km - 2 hours 30 min.) a suitable path along the river Chiese . The route begins at the monastery of St. Euphemia and then moves to the center of Gavardo, to skirt the river Chiese, then takes an old road after Sopraponte, in midden of the woods, to return finally to the Gulf of Salò.
GOLF
For golf lovers there are dedicated sites and perfectly equipped camps to make you live a unique experience.
Fields can be practiced all year and thanks to the landscaping they all represent a challenge for both: absolute beginners as well as professional players.
Almost all of the Garda golf clubs organize a race weekend and for beginners there are the golf schools.
PLAYGROUNDSCircolo Golf Bogliaco
Toscolano Maderno - Via del Golf, 21 / Holes 18 - m. 5.300 - par 70 - sss 69
Franciacorta Golf Club
Nigoline di Corte Franca - Via Provinciale, 34/B / Holes 18 - m. 5672 - par 72 - sss 72
Garda Golf Country Club
Soiano del Lago - Via Angelo Omodeo, 2 / Holes 18 - m. 6.505 - par 72 - sss 72
Arzaga Golf Club
Calvagese della Riviera - Loc. Carzago / Holes 18 - m. 6.214 - par 72 - sss 72
Golf Club Paradiso del Garda
Peschiera del Garda - località Paradiso / Holes 18 - m. 5.961 - par 71 - sss 71
Ca' degli Ulivi Country Golf
Marciaga di Costermano - Via Ghiandare, 2 / Holes 18 - m. 5.784 - par 72 - sss 72
Golf Club Verona
Sommacampagna - Loc. Cà del Sale,15 / Holes 18 - m. 6.054 - par 72 - sss 72
WATERSPORTS
If the kayak, provided by the Hotel Spiaggia D'Oro - Charme & Boutique, shouldn't be enough for the water sports enthusiasts, the lake offers a big choice!
Sailing, wind surfing, diving, canyoning, kite surfing and canoeing are just some of the fantastic sports offered by the lake.
Among the news not to be missed for sure is wakeboarding. Born from the union between water skiing and snowboarding.
Lake Garda is the ideal setting to host the funny water acrobatics riquired by this sport.