Madonna della Corona
A Gem Nestled in the rocks
Pubblicato in data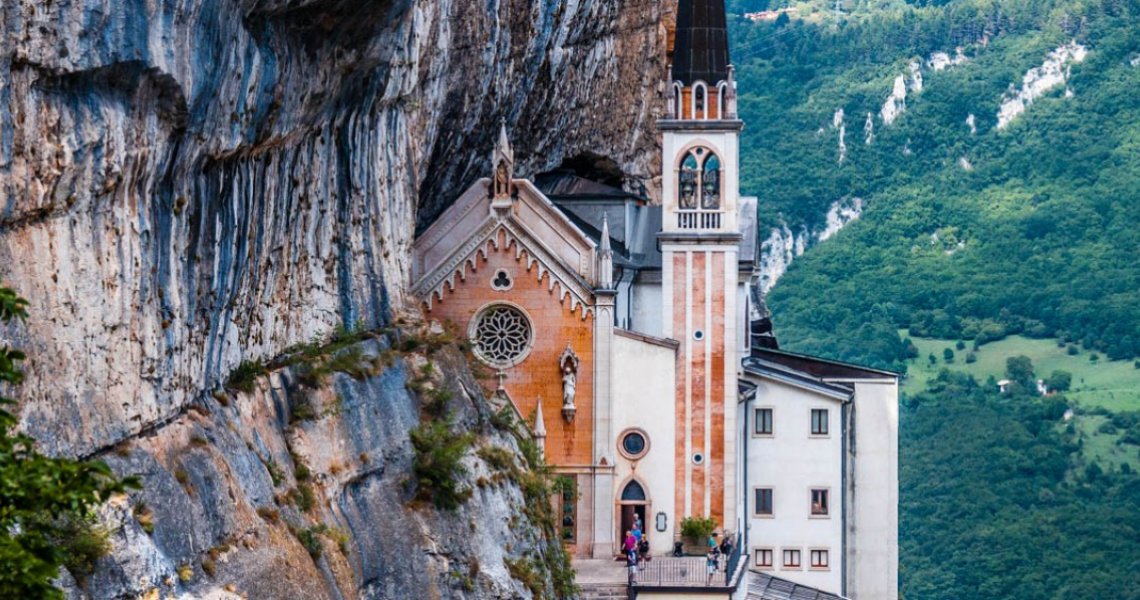 The Sanctuary of Madonna della Corona is a little-known destination close to Lake Garda and it also happens to be one of the most peculiar sanctuaries in Italy.
Nestled in the heart of Monte Baldo, this place of worship is situated in Spiazzi, a suggestive location in the province of Verona at 774 metres above sea level.
What makes this Sanctuary unique ‒ other than its incredible position dug out of the rock wall ‒ is that is seems permanently suspended between the earth and sky.
The history of its name
This silence space of meditation owes its name to the statue worshipped here, the Virgin Mary holding the Dead Christ in her lap.
The sculpture, which comes from Rhodes and is made from local stone, has the words HOC OPUS FEClT FIERI LODOVICUS D CASTROBARCO D 1432 written on it in Latin, which seem to confirm that is was made and donated to the Crown (corona, in Italian).
Why does it look so unique?
The origins of Madonna della Corona are truly ancient - the first church was actually inaugurated in 1530!
Throughout the centuries, it has undergone several refurbishments, up until the Holy Year of 1975 when it was expanded and hollowed out in the rock, increasing in size from 220m2 to 600m2.
The 1975 restoration gave the Sanctuary its current, surreal appearance.
How can I reach Madonna della Corona?
In the past, the trail which led to the Sanctuary could only be reached by walking up steps for 2.5 km from Brentino, a little town in Vallagarina.
This was the ancient pilgrim's trail, also known as the Path of Hope (Sentiero della Speranza); it is very suggestive as it is immersed in nature and offers breath-taking scenic spots, for example the La Croce terrace.
As you continue, you reach Tiglio bridge, made entirely of stone and, once you have crossed it, just head up the steps to the entrance.
Thankfully, today the Sanctuary can also be accessed from an asphalted road located after Spiazzi, which ends with a tunnel dug out of the rock, containing a painting of the Virgin Mary.
This route is only accessible on foot and, along the trail, you can find the fourteen stations of the Cross, signposted by bronze statues.
Another option for people wishing to visit the sanctuary without having to walk is the shuttle bus from Spiazzi, located at a stone's throw from the free carpark.
A place worth visiting
Whether you are religious or not, the Sanctuary of Madonna della Corona is definitely worth a visit if you fancy an unusual excursion.
Here, you can enjoy both the unique church but also the surrounding landscape, which gives a sense of peace and serenity to the entire town.
The Sanctuary is open year-round at the following times:
November - March: from 8 am to 6 pm
April - October: from 7 am to 7:30 pm